Welcome
The Association of Continuity Professionals is the nation's leading non-profit association, comprised of professionals who are responsible for or have an interest in business continuity, preventing disasters, providing disaster recovery information and facilitating the resumption of normal business activities following a major disaster.
Members of ACP nationwide represent business, industry and government organizations at all levels. Included are executives, administrators, managers, directors, writers, legal staffs, accountants, engineers, sales-persons, records managers, archivists and many more professionals.
Become a member and join ACP!
Invitation to Membership Brochure
Latest News
Thanks to Drs. Arrington and Kaziny for discussing pandemic planning at our September 10th chapter meeting at Texas Children's Hospital West Campus.
Click for more event pictures and for the presentation slides.
Don't miss out on the fun and information! Come to our next event!
Agility Recovery and TEEX facilities tours
(Field Trip - College Station)
Date: October 16th, 2019 10AM to 3PM
Location: Agility Recovery Center, 3001 Earl Rudder Freeway South, Suite 200, College Station, TX 77845)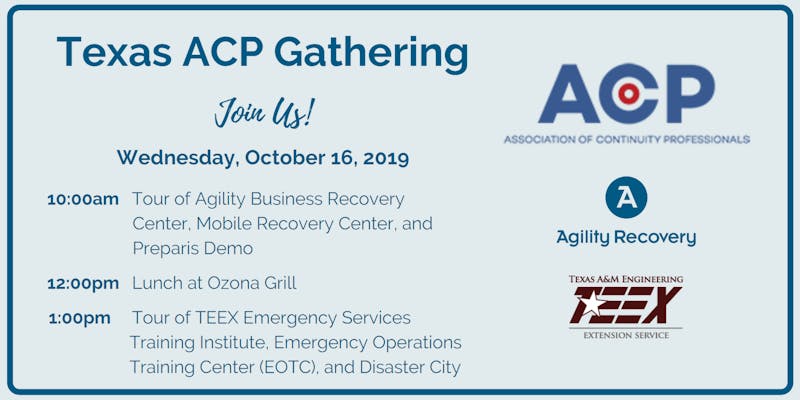 Join us for a special day-trip as all the Texas ACP chapters travel to College Station to tour the Agility Recovery and Texas A&M Engineering Extension (TEEX) facilities including Disaster City®!
Schedule of Events:
10:00am
Tour of Agility Business Recovery Center,
Mobile Recovery Center, and Preparis Demo
12:00pm
Lunch at Ozona Grill
1:00pm
Tour of TEEX Emergency Services Training Institute,
Emergency Operations Training Center (EOTC), and
Disaster City
Our local ACP chapter will be coordinating transportation logistics from Houston to College Station and back. If you are interested in this event, please sign up via the Eventbrite links on this page and select "South Texas Chapter - Houston" and we will reach out with specific transportation details as we get closer to the date.
If you cannot use the provided transportation, we will begin our tour at Agility Recovery's Business Recovery Center and Mobile Recovery Center. The address is 3001 Earl Rudder Freeway South, Suite 200, College Station, TX 77845.

Share with Friends and Colleagues
Note:
We welcome everyone to attend our exceptional networking and educational events. Your first program event is free and without obligation. There is a nominal fee for returning guests and non-members. Your support of the growth of our profession and the chapter is truly appreciated.
---
Thank you, past sponsors!
If interested in sponsoring ACP South Texas, please contact our This email address is being protected from spambots. You need JavaScript enabled to view it..
---
Reserve a seat at our events on Eventbrite.
Eventbrite
Follow us on Twitter or Facebook, or Join our Group on LinkedIn!